Our Project
MyBeautyBrides.net is an online resource that finds, reviews, and analyzes the leading and up-and-coming international dating sites in order to bring our readers the most effective, secure, and popular sites in the industry. We use a variety of tools and metrics, as well as our own expertise, to become your trusted guides in the precarious world of online dating.
Why You Should Choose Us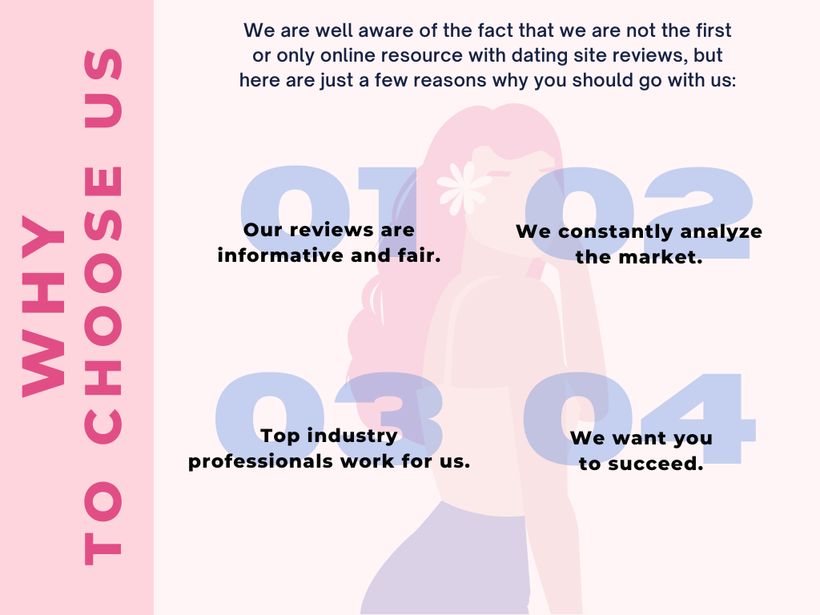 Our reviews are informative and fair. We want to help you prepare for your time on a particular dating site.
We constantly analyze the market. We know exactly which dating sites are worthy of your time and which are best to be avoided.
Top industry professionals work for us. Our writers, editors, designers, and content managers are acclaimed pros with years of experience.
You can always get in touch with us. We are happy to answer your questions, comments, and concerns.
We want you to succeed. The ultimate goal of our company is to help you find your ideal bride as quickly as possible.
About Our Business
Any information you find on our website is completely free to our readers and is available for unlimited use no matter how often you visit our site and whether you are a member or not. However, we run MyBeautyBrides as a business. Since we don't take any money from our readers, we rely on other sources of profit — primarily, our cooperation with dating sites we review. Here is what you need to know about it:
We mainly make money by posting links to dating sites on our website. Whenever you follow a link and become a member of a third-party dating service, we receive a commission.
The fact that we receive money from some dating services may influence their visibility on our site. For example, we may place those services higher on our lists.
We do not allow the possible monetary compensation to influence the content and scores in our reviews — those are only based on our own opinions and findings.
Our Process Of Making Reviews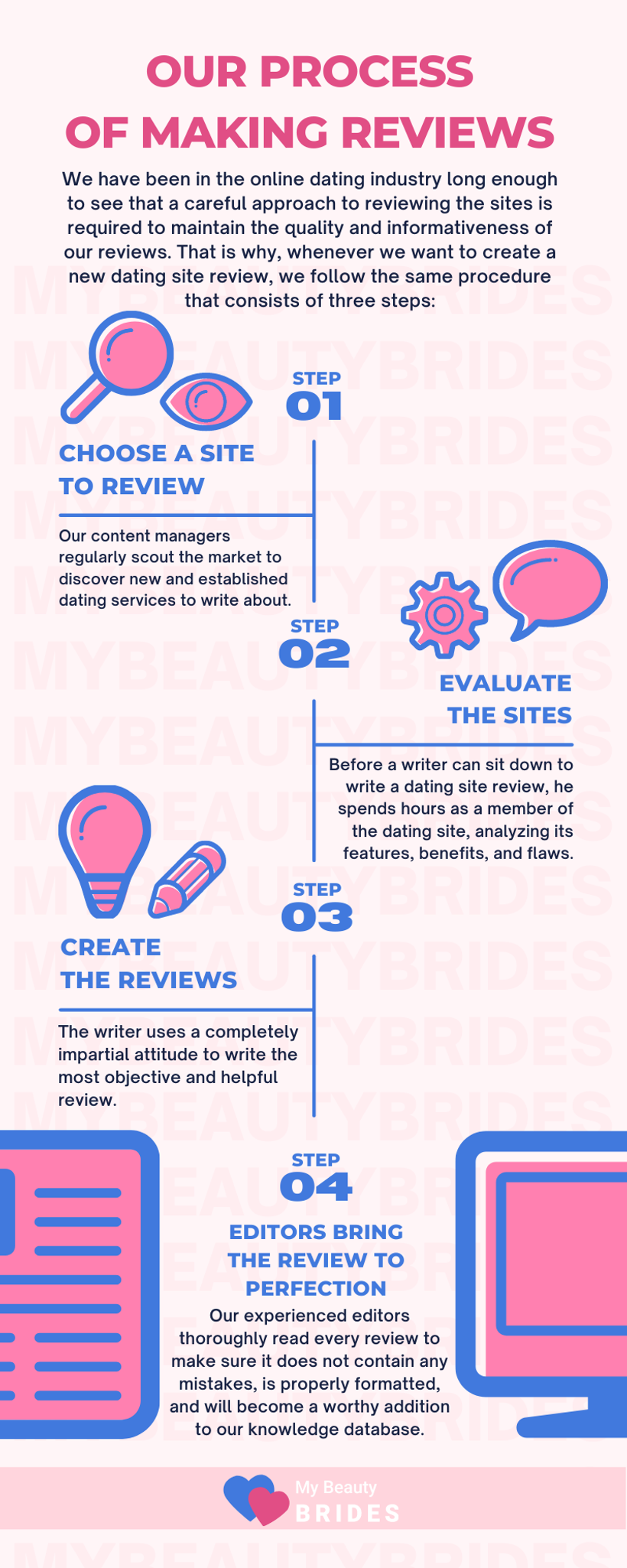 How We Rate Dating Sites
When reviewing dating sites, we give each platform a rating in several categories to assess the site's individual position on the international dating scene, as well as easily compare it to other dating sites. Those categories include:
Design and user experience. In order to become popular among the users, a dating site needs to have a modern design that is easy-to-use and looks good on any platform, both desktop and mobile.
Popularity and engagement. A large database of active members is what separates the good dating sites from the ones that don't deserve your attention. We use our own analysis techniques, as well as data from third-party resources such as Similarweb.
Reputation. Online dating is a sensitive matter and the last thing you want to happen is for your personal data to get into the wrong hands. We assess a site's reputation with the help of our reputation metrics and customer testimonials from Trustpilot and Sitejabber.
Our Content Team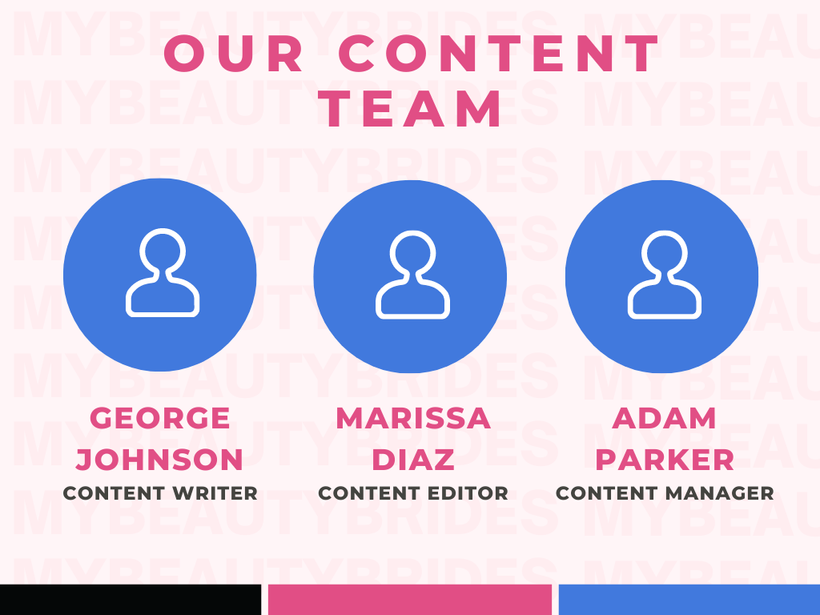 George Johnson, Content Writer
George has over five years of experience as a content writer. He approaches every review with more care and attention to detail than we have ever seen from content writers, which is why his reviews are so thorough and informative.
Marissa Diaz, Content Editor
Having spent almost a decade editing and proofreading the content for the most renowned online magazines and blogs, Marissa joined our team as a Chief Editor. The flawless content and formatting of our reviews are the result of Marissa's hard work.
Adam Parker, Content Manager
Adam is a guy who is not just a true pro in the world of online dating but also keeps his finger on the pulse at all times. He knows exactly what our readers want to see on our website and he is prepared to work day and night to bring you the content you deserve.
Featured Lady — Who Is It? How To Get Featured?
For some men, it can take months or even years to find their ideal mail order bride, but most guys don't have the luxury of waiting for so long to come across their life partner. To help you discover the most eligible Asian singles, we have added a Featured Lady section to our website. In short, a Featured Lady is someone who has the biggest chance of capturing your heart.
In our quest to find the most charming bachelorettes on Asian dating sites, we don't just use their popularity ranks or other superficial factors. We perform a deep analysis of each profile to determine whether a woman is not only physically attractive and sociable but also has the right values, is ready to build her own perfect family, and is a 100% loyal individual. Here is everything you need to know about our Featured Lady selection process.
How to apply for being featured?
Our team is constantly working to discover the most attractive Asian singles on dating sites, but we cannot physically monitor every profile that appears on those sites without missing anything. If you are a lady who wants to be featured on our website, you are welcome to apply for our consideration. Before your application, make sure you match the following requirements:
Your profile must be new. We will only consider profiles that were created less than three months prior to the application date.
You must be a member of a reputable dating site. We cannot accept members from dating sites that have proven to be untrustworthy.
Your profile must be complete. Every field in your dating site profile, including your age, marital status, and physical parameters needs to be filled out.
You need to have several profile photos. Your profile should have at least one main profile photo, as well as a few additional high-quality photos and possibly videos.
Additional information is also welcome. If there are some extra fields in your profile, use them to describe yourself and your dating goals.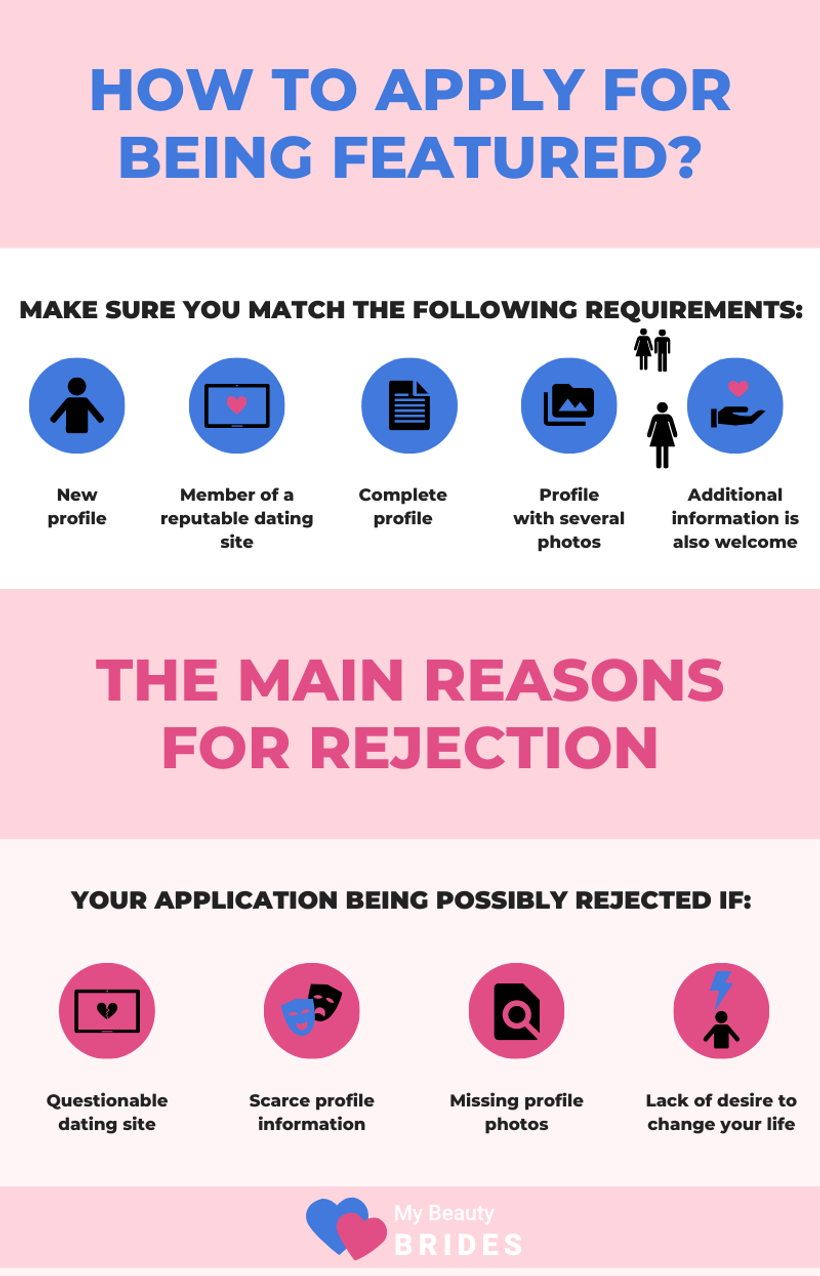 What are the main reasons for rejection?
Our goal is to provide our male readers with the most attractive single female candidates for serious relationships and marriage. That is why we cannot accept every lady who applies to be featured on our site. These are the most common reasons for your application being possibly rejected:
Questionable dating site. We will not urge our readers to join a dating site that is riddled with suspicious activity.
Scarce profile information. If you haven't filled out every available field in your dating profile or if you purposely hid some facts about yourself, we won't be able to feature your profile.
Missing profile photos. In case your profile doesn't contain a single photo, or the photo doesn't look genuine, we may reject your application.
Lack of desire to change your life. The number one requirement for brides to be featured on our site is the goal of marrying a foreigner, so if you don't see that in your future, we will look for other candidates.
Which criteria do we use to make decisions?
The process of choosing the right profiles to be featured on our website is a very complex one, and there are a number of factors we take into account when making the decision. Here are just some of them:
Attractiveness. Beauty is a subjective concept and we all have our own beauty ideals, but it's also hard to argue with the fact that the beauty of a woman is one of the main deciding factors for a man. You don't have to qualify for the Miss Universe title, but a sincere smile and good self-care can go a long way.
Profile quality. Your profile needs to have all the information a man may need before deciding to contact you, and that includes not only filling out the mandatory fields but also providing additional, eye-catching information about yourself.
Activity. It can be very frustrating for a man to come across a very appealing female profile only to find out that the woman behind the profile replies selectively, uses one-word answers, or doesn't reply at all. You need to be active and sociable in order to be featured.
Serious intentions. If you want your dating site profile to be featured at MyBeautyBrides, you need to have a clearly defined goal to find a foreign man, marry him, and potentially move abroad to his home country.
Profile verification. The most reputable dating sites usually have a system of validating women's profiles by asking for their official ID. If your profile is verified, you have a higher chance of being featured.
How does the selection process work?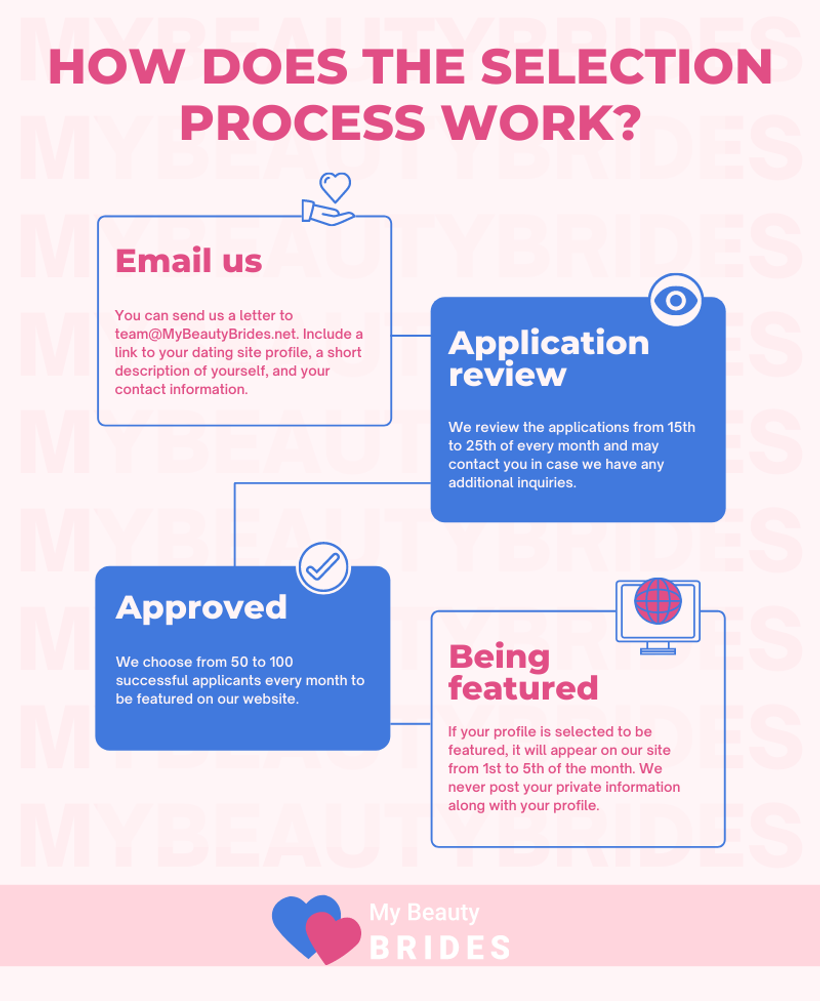 Do we guarantee that the profile is still active?
In rare cases, the profiles we feature on our website may be deleted without any notice. We do our best to monitor the featured profiles to make sure they are being actively used, but we cannot guarantee that every female profile you see on MyBeautyBrides is still active at the time of viewing.